Remember.
Whatever you're doing today – spending it with family, eating wonderful food together, enjoying fun activities – take at least a minute or two to remember and appreciate those who have served their country.  Pray for them, if you're so inclined, both the ones who have served in the past and the ones who are serving now.
Today I'll make deviled eggs and fresh corn salad and lemonade. We'll hang out the flag and have a picnic lunch with family. We'll water the peony on Hayley-dog's grave.
The CEO is gone on a missions trip to Montenegro; he'll be back on Wednesday evening. Bookworm is going to spend the week with my parents. This is the last week of school.
I'll be wearing the first, lovely, Ines de la Fressange fragrance, which I'm sad to say that you cannot get now unless you're willing to plop down about $15 for a 4ml mini.  I think I paid about $17 for my 30ml bottle from an online retailer, back in 2009, and when I found out how good it was I went right back and bought a 50ml for about $20.  Love the stuff.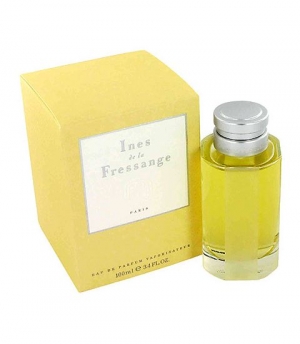 This is the 1999 Calice Becker version in the octagonal bottle with silver top. Notes include aldehydes, peach, bergamot, rosewood, carnation, iris, jasmine, rose, ylang-ylang, lily of the valley, sandalwood, tonka bean, benzoin.  Yes, it's a fruity floral. No, you don't have to curl your lip and sneer, unless you'd curl your lip at a floral print dress. It's not a ditz, and its fruit is unsweetened. What it is is lovely.
Enjoy the day.