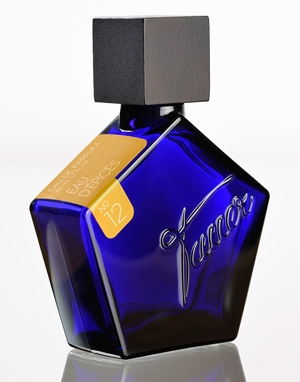 I was rather pleased to open an email from Jeffrey Dame asking if I would like a sample of Eau d'Epices to review. I had tested a small .3ml sample of it when it was produced as a limited edition in 2010, and liked it. But I'd used up my tiny sample ages ago, and since it's not really my usual sort of thing I had not sought out any other supplies. (I tell you honestly, if it had been an offer of a sample of Orange Star or Zeta, I'd have said, "No, thanks, I'm familiar with those and I don't want to waste your time. Now if you'd like to send me a bit of Carillon pour un Ange or Une Rose Chypree, or something else new from Tauer, I'd be all over that.")
I have maintained from early on in my Tauer sniffery that when a Tauer fragrance works for me, it is wonderful, and when it doesn't work – it really doesn't work. There are at least several Tauer productions that I liked but didn't feel the urge to purchase, but I tend to have strong reactions to the ones that I've tried. At this point I have worked my way well into the line, with the exceptions of Lonestar Memories, Vetiver Dance, and the Pentachords series.  The line offerings are about evenly split between Ooh, I really like this and No, thanks, not my thing.
The nifty little hang tag that came with my 1.5ml manufacturer spray says this about Eau d'Epices (sorry, no diacritical marks. Life is short.):
"HEAD NOTES: An Indian basket of spices with cinnamon, cardamom, clove and coriander with red mandarins.
HEART NOTES: An opulent heart of orange blossom, jasmine, orris root and incense.
BODY NOTES: A woody cistus ladaniferus resin, softened with ambergris, tonka beans and vetiver."
Before we begin the Review Proper, you must understand that while I'm a big spice fan, I'm not typically a big fan of its oriental/woody accomplices. If there is a spicy fragrance, chances are very good that the perfumer is buttressing the spice rack with the usual suspects of labdanum, woods and balsams. And it's true, I can name only a handful of spice-focused scents that I wholeheartedly enjoy: Donna Karan Black Cashmere and DK Chaos, Comptoir Sud Pacifique L'Eau du Gouverneur (sadly, discontinued), the long-gone Prince Matchabelli Potpourri, and Caron Poivre (one of the very few Carons I like). What these scents have in common is a spicy warmth without the ballast of heavy oriental notes underneath. The woody notes that serve as their bases are lighter. Poivre and Potpourri are distinctively floral while Black Cashmere is comfortingly creamy and L'Eau du Gouverneur cedary.
Commonly, the fragrances known as "spicy" are really essays on tolu balsam/labdanum: YSL Opium, Estee Lauder Cinnabar and Youth Dew, and even Tauer's own L'Air du Desert Marocain. Regular readers will know that I think Opium and Youth Dew are evil, and any hint of the Dreaded Youth Dew Accord is the kiss of death for me. I was quite enjoying Frederic Malle Noir Epices when the Specter of Youth Dew popped up, and that absolutely scratched the fragrance off my tentative "look for a decant" list.
L'eau d'Epices is not much like my other favorite spicy scents, either, but it does lack the heavy, sticky, mustiness of Youth Dew. It does have that "Tauerade" aura, which seems comprised of ambrein, a sandalwood-like accord, and incense (see this Nathan Branch interview with Andy Tauer and the Perfume Posse post which first mentioned the phrase "Tauerade"). And like many of the other Tauer fragrances, it lasts several hours on me, even with my scent-eating skin.
Up top L'eau d'Epices is very brightly citrusy, with an orange tang that is very like the sensation of digging your thumb into a tiny fragrant clementine. Wonderful stuff, very refreshing without being in the least cologne-ish (yawn). It lasts for about twenty minutes on me, lingering on into the beginning of the spicy aspect, and this is my favorite part of the experience. The spices join the bright orange fairly soon, with the cinnamon and especially the cardamom prominent. Underneath, though, is the Tauerade, and if I sniff up close it's quite noticeable.
Within half an hour the orange blossom – in this case, a soapy, neutral, barely-floral one – comes into play, with a dry earthy iris (never a favorite), but the spices linger. Within an hour and a half or two hours of application, I'm into the Tauerade. It's still sprinkled with a light dusting of spices, and the dryness of vetiver offsets to some degree the richness of the labdanum/ambrein. If I apply one or two spritzes, L'Eau d'Epices lasts approximately five to six hours and radiates only a few inches above skin after the first half hour. I have been hesitant to spritz more, because Tauerade can be a headache and a half for me when overapplied.
L'Eau d'Epices is definitely a woody oriental fragrance, but it seems rather lightweight on me for that sort of scent, a sort of oriental veil – "Water of Spices" indeed. For me, that's all to the good with regards to a genre that I don't automatically love. I can imagine myself enjoying it in weather that would suit hot mulled cider or orange-spice tea; that is, fall to winter.  I particularly do love the orange-spice opening of this fragrance.
If you're wondering how close L'Eau d'Epices is to Orange Star, I'll just comment that I disliked Orange Star very much.  The salty-amber quality of it was too rich for me, and the orange blossom was extremely soapy (that's a recurrent difficulty for me in particular with orange blossom), and there was a distinctive, raspy, "Tang dust in the back of the throat" quality that made it unwearable for me. The Tang-dust effect is fairly widespread (some people refer to this as baby aspirin, I think), but I don't like it any time I run across it. L'Eau d'Epices doesn't have any of these problem areas – again, it's my problem – and I find it more focused on the spices and the quietly woody base than Orange Star is.
(It's interesting to me that this scent which I'd only wear in cooler months is being released in spring. I noticed that Carillon pour un Ange, which for me is perfect in spring weather, was released in autumn, and although Switzerland has the same weather as the US, both these releases seem timed awkwardly. If it were up to me, I'd be releasing a lily of the valley scent in January or February, when people are starting to think longingly of green shoots pushing up through grass, and releasing a lightweight oriental in, say, August or September, when the seasons are beginning to turn and sweaters start to come out of cedar chests. But I don't work in the business, and perhaps I've got the whole thing wrong.)
L'eau d'Epices is available in the US at all the usual sources (LuckyScent, MiN New York, The Perfume House in Portland OR, and IndieScents) for $135 per 50ml bottle.  Also available at Tauer Perfumes.  With thanks to Jeffrey Dame of Hypoluxe and to Andy Tauer for the sample.