Esther P is a new company based in Canada, selling fragrances created in Grasse, France. From the website's "About Us" page:
After selling perfumes in her shops for years, Josette André decided to create her Esther P line when she realized that people who love perfumes were often disappointed by mass production. Hundreds of issues every year, that finally were all smelling similar, aiming to please everybody, and not fulfilling the expectation of the connoisseurs. Most of the time, perfumes are marketing products, and customers have to follow the trend. This is not our vision.
For us, wearing a fragrance is a very personal decision. It must fit your personality, and you have to wear it and feel comfortable with it in the same way you wear your favorite clothes. Our products are certainly not a one-fits-all line, for us, each woman is unique. Never would our fragrances copied from an existing one. Each one would represent for a woman a moment close to her feeling, imagination, or way of life. These fragrances are a creation for someone wanting a unique, personal, made- for- her-only fragrance.
The main idea Josette gave to our creator, was "Simplicity", hiding a very complex creation. This same simplicity crowns the culmination of techniques and skills supported by high standards of quality products. For each fragrance, we have chosen the purest and most natural components. Every time it is possible, we use natural ingredient, and when available, products from France. Our production reflects the luxury French signature. Ingredients, complex and modern harmonies, chic bottles, we want Esther P to be on all counts the ambassador of French elegance.
These fragrances will be sold through a network of independent and selected stores.
I recently won a sample set of Esther P fragrances from online retailer IndieScents, and wanted to review them briefly here. Fragrance info was taken directly from the Esther P website. 
Barbara
Barbara is a woman living energetic days. Fresh with Lime and Spicy Anise, and the long lasting feeling of wearing fresh white linen. The Amber and Musk in the background reveal the sophisticated side of this lively woman.
Floral Oriental. Eau de Toilette.
Head notes: green notes, anise, sweet fennel, lime
Heart notes: jasmine, cotton flower
Base notes: ambergris, musk
Testing Barbara: Green notes apparent up top, along with something that smells like pear. Tiny touch of lime, not getting the anise. I don't know what "cotton flower" smells like, but if it's that "clean" thing you get in the B&BW Cotton Blossom, I don't like it. Basically, after the first few minutes, this smells like clean laundry.  Not quite as nice as AG L'eau du Ciel, either.
Barocco
Barocco is a floral harmony, elegantly blending Tuberose, Ylang-Ylang with a Jasmine heart and spiced clove. For a stunning and passionate woman. Soft Floral. Eau de Toilette and Parfum.
Head notes: white flowers, ylang-ylang, tuberose
Heart notes: lily of the valley, jasmine, spices, clove
Base notes: ambergris, white musk
Barocco starts off with JASMINE and some muguet; I'm not picking up on any tuberose or ylang, or indeed any spices.  It is soft, and it's reminding me to some degree of something or other a friend's mother used to wear, back in the 80s. This, however, is much quieter (and duller).  Eventually it begins to warm up, with less of a synthetic jasmine feel and more of a white floral mix.  However, it then dives straight for the laundry musk.  It's a bit like Jessica McClintock's fragrance.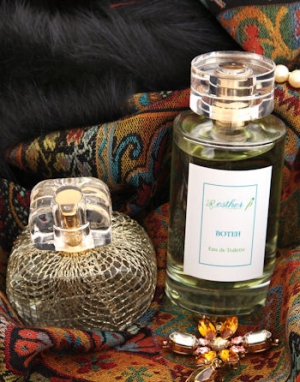 Boteh
A dreamy oriental. Filled by images of cashmere, gold embroidery, soft pillows along pools fragrant of Mysore sandalwood and Damascus roses. Green Oriental. Eau de Toilette and Parfum.
Head notes: grapefruit, blackcurrant, hyacinth
Heart notes: jasmine, Mysore sandalwood, rose
Base notes: vanilla, ambergris, musk
Testing Boteh: Blackcurrant immediately apparent, as well as the rose and vanilla. Up top, it reminds me a little of Moschino Funny, except that it also has a dusty, baby-aspirin quality I don't like much.  Also reminds me a little bit of Micallef Mon Parfum Cristal, though I think that has better materials. This is wearable, though.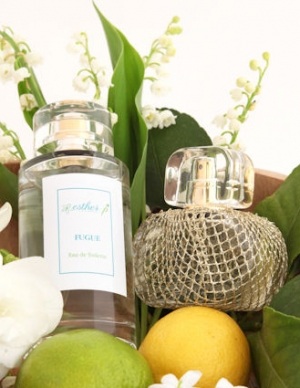 Fugue
Behind the fresh citruses and white flowers, a hint of discreet woody scent and musk, for a woman sure of herself, an apparent simplicity for a complex and sophisticated woman.  Oriental. Eau de Toilette and Parfum.
Head notes: mandarin, bergamot, pineapple
Heart notes: lily of the valley, iris, jasmine, heliotrope
Base notes: vanilla, sandalwood, cedar, tonka, musk
Citrus and musk, that's all I'm getting. Maybe a little bit of muguet.  Not an oriental – it's mostly laundry musk with some pale woody notes.  I don't even smell any vanilla. It's somewhere between Cashmere Mist and Light Blue, without the Cashmeran of the former and the Windexy aquatic notes of the latter.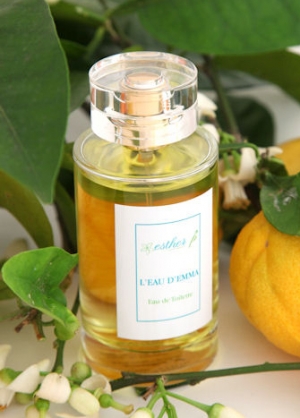 L'eau d'Emma
 "L'Eau d'Emma", fresh and crisp. A harmony of sweet orange and fruity mandarin, with summer jasmine and iris, shaded by a cedar tree. Fresh floral. Eau de Toilette.
Head notes: citrus (mandarin, bergamot, lime, sweet orange)
Heart notes: jasmine, iris
Base notes: Atlas cedar, patchouli from India
This is a beautiful citrus fragrance, not quite a traditional cologne, but similarly fresh and invigorating. It starts out with a very lovely mixed-citrus blast, which is joined by that very clean jasmine material, and then a pleasant cedar… but then it goes to white musk, again. Overall it lasts a little less than two hours on me. This is not a type of fragrance I really enjoy – I don't particularly enjoy citrus florals – but this one is very refreshing and attractive. I would still rather have Guerlain Aqua Allegoria Pamplelune for a citrus floral (grapefruit, jasmine, rose, cedar and patchouli), particularly at this price point.
Queen of Persia
Queen of Persia….A soft and modern Oriental fragrance. Rose and Jasmine, the symbol flowers of Grasse in Provence. Candied fruits soften the very modern note of incense and patchouli. Ambered Oriental. Eau de Toilette and Parfum.
Head notes: mandarin, bergamot, rose
Heart notes: jasmine, rose, candied fruits, iris
Base notes: vanilla, patchouli, frankincense
This is really pretty. It might be my favorite of the line. Not particularly "candied," thank goodness, and it's not as high-pitched as some of the others I've been smelling from this line. They are NUTS calling it an "ambered Oriental," though, and regular readers will know that I am definitely not much of a customer for either amber or oriental! It's neither. It is a rose-jasmine floral with a nice non-laundry base, and it's somewhat similar to Chanel's Coco Mademoiselle, without CM's screechy patchouli.  It's pleasanter to wear, but also doesn't last the way a real oriental would – a good .3 ml application was gone in three hours.
The PR material makes a point of saying that these fragrances were all composed in Grasse, and that they reflect the centuries of perfumery originating there… but my opinion is that these are not particularly original, and they're not going to appeal to perfume fans. As far as that goes, they smell fine. They're at least department-store quality, or perhaps a little better, because although they do have that ultra-clean, streamlined feel of floral synthetics, there are at least some natural florals mixed in.
Longevity on these, on my scent-eating skin, is very bad, ranging from 2 hours to 4. Sillage tends to be very quiet to moderate, even with the heftier florals like Queen of Persia and Barocco. Of course I am dabbing from a vial (using about a third of a ml each time, and my test spot is pretty soaked) instead of spraying, and that might affect the experience.  However, most of these scents eventually get eaten up by white musk in the drydown (exception Queen of Persia, which nevertheless smells like several other department store scents with a modern-chypre base). I am a little surprised that Indie Scents is carrying the brand, since these are not anywhere near as wildly original as most of their other stock.
Again, pleasant fragrances, but not anything I would shell out for. In each case I could pick a different (and probably less expensive) option that would be better in terms of longevity and originality.
Each fragrance is available in eau de toilette; four of them are also available in parfum strength. I tested only EdTs. The parfum bottles, I must add, are particularly lovely, and if I were a bottle hound I'd want one. The Esther P fragrances are available at Indie Scent (only the EdT concentration, at $110 per 100ml bottle) and also at the Esther P website, but you have to email for ordering info. I do not know how much the 50ml parfum bottles cost.
My thanks to IndieScents for the sample draw.