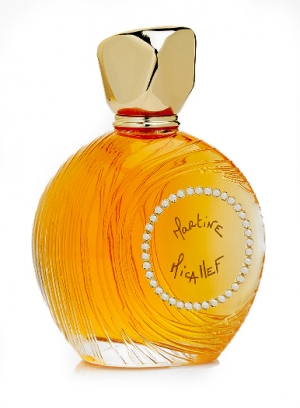 Mon Parfum Cristal was released in 2013, intended to be a "more crystalline" version of Micallef's 2009 Mon Parfum. I have not smelled Mon Parfum and wonder if the "cristal" addition to the name was intended to reference the highly decorative bottles Ms. Micallef often uses, rather than the scent itself.
When I think of "cristal," the French version of crystal, a few things come to mind: the brand of Champagne (though I've never had that, either!), chandeliers, gems, icicles, wineglasses, and… aldehydes. Well, you know me, I'm still the AldeHo.  However, there is nothing clear-and-sparkly about this fragrance. Rather, it is opaque and cuddly. Not that there's anything wrong with that in itself, and the fragrance is very nice. But it's not very crystalline in nature.
The notes for Mon Parfum Cristal are pink pepper, cinnamon, rose, vanilla, musk, toffee, musk, and amber.  (See? just from the notes list, you're already thinking What about that has anything to do with crystal?? Well, nothing. Not that there's anything wrong with that.)
The fragrance opens up with what seems to me like a bit of orange as well as the pink pepper and just a dusting of cinnamon.
Aside: it has become common among perfume fans to proclaim themselves sick of pink pepper, which always strikes me as being a silly stance to take. Sure, it seems like 80% of new launches contain pink pepper, but given the recent crackdown on citrus notes, I ask you, what are perfumers to do? Pink pepper, a synthetic aromachemical with rosy and mildly piney angles, functions much the same way as bergamot or other citrus notes do, and it serves a purpose. Pink pepper rarely serves as the focal point of a fragrance, but rather as a bridge or accent. (See this Fragrantica article by Elena Vosnaki of Perfume Shrine for more on pink pepper.)  You don't hear people complaining, "Seems like everything out there contains bergamot these days!" It might be true that fumeheads much prefer citrus to pink pepper, and that stance is understandable. Everyone has preferences. But to complain that everyone is using it seems silly to me.  Whine about the recent overuse of synthetic oud, if you like; oud tends to be used as a focus rather than an accent. Okay, rant over. Sorry. Back to review.
Mon Parfum Cristal moves fairly quickly into its rose-vanilla heart and stays there most of the time. It is rather sweet, given the vanilla/toffee/amber notes, but the rose is really a lovely one, and the whole thing is girly and pretty and pleasant. I really can't see a man enjoying this one much, but this confection is made for, say, the niece who loves pink. Longevity is good, approximately six hours on me, and the sillage is moderate. I've been dabbing from a mini bottle, but sprayed the scent has more presence.  I'd call this a "fleurmand" – a floral gourmand – because it's focused on the rose and toffee notes.
The fragrance reminds me just a bit of Tocade, though it lacks Tocade's "That Slut" sexiness, which seems to come both from its frilly rose-vanilla coupled with its smoky, dusty patchouli. Mon Parfum Cristal is every bit as frilly-sorority-girl, but it's the sorority girl who's slept the sleep of the righteously-caught-up-on-her-studies, not the one who stayed out all night doing keg stands. However, there is a distinctive "Micallef" recognizability to it as well; I'm not sure what it is, but all of the fragrances from this house that I have smelled seem to have in common a pleasantly-raspy vanilla in the base.
I haven't seen the actual Mon Parfum Cristal bottle, though I think it is pretty in photos, and looks like it would be a pleasure to hold in the hand. The juice, too, is a pretty peachy rose color.
The perfumer for MPC is Jean-Claude Astier, who seems to have been responsible for much of the perfumed output of Micallef.  I'm not sure that this fragrance is available for purchase in the US as of yet; however, LuckyScent carries the original Mon Parfum, $225 for 100ml, so perhaps they will be carrying MPC soon.
Elena Vosnaki reviewed Mon Parfum Cristal on Fragrantica, here.