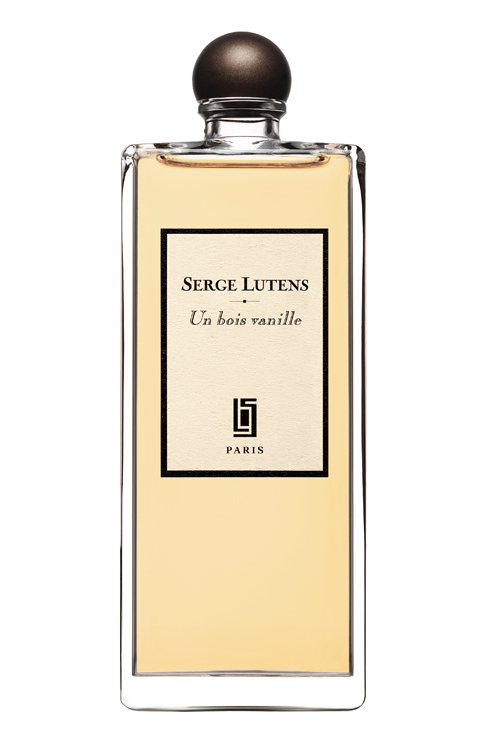 This is the latest round of Serge Lutens testing, with results as follows. Blue, I love. Pink, I like. Orange, I'm neutral on. Green, I dislike. Purple, I despise. Beyond La Myrrhe, there's not a single SL fragrance that I am dying to own – so far, anyway.
Daim Blonde – opens up very, verynicely – apricot jam and a bit of jasmine, and I can smell the suede note too. Unfortunately, it spends about an hour and a half smelling like shaving cream amber, which is a definite no-go for me, before settling for a light woody-suede drydown. I'm waffling between Like and Dislike on this one, so I think I'll have to add a new category for "meh," or neutral.
Douce Amere – "Bittersweet" is not usually my thing except in love stories and chocolate, so I was pleasantly surprised by Douce Amere. It's sort of like a grown-up Caron Aimez-Moi, less floral and less girly, and since I have tired of the powdery vanilla at the bottom of Aimez-Moi while still liking the violet-anise-rose top of it, I'm finding that I enjoy Douce Amere's stronger anise-tonka-wood accord much more.
Serge Noire – another one I was expecting to hate hate hate. I read the list of notes, and I read Kevin's hilarious review at NST, and I just knew I was going to hate it.  (Tom at PST liked it much better.)  Well, snatch me baldheaded: I like it! I'm not sure I could actually wear the thing, but it reminds me very strongly of the opening of Memoir Woman, which I absolutely love (though I admit that without the gorgeous white floral heart, I would not like Memoir). I do actually find the whole medicinal, cold-hot, apothecary-shop cast of it very interesting, and I like smelling it. As a perfume, though, a smell to intentionally put on skin? Too weird, dude. I call it pink anyway.
Un Bois Vanille – this one's pretty terrific, all woody and roasted and so very very comfortable.  Oddly, this is marketed to women (according to Fragrantica), but I'd call it unisex, myself.  Actually, UBV should be worn by awesomely-devoted-and-reliable men who are not exactly drop-dead sexy but very appealing anyway (Team Peeta, anyone? join me!).  Un Bois Vanille only suffers because I ran across Smell Bent One first. SB One is much spicier, not nearly as dark and roasty as UBV, but the thing is, if forced to choose, I would probably prefer spice to espresso. Especially when "spice" is $40 a bottle, and "espresso" is $180. However, if my fairy godmother wrapped a bottle of Un Bois Vanille in sparkly blue Cinderella satin and tulle and left it on the seat of my created-from-a-pumpkin minivan, I'd certainly wear it.
This was a good bunch.   In terms of my personal absolute loves, though? Patricia de Nicolai is STILL kicking Uncle Serge's butt, even though Uncle Serge has many, many more wares for me to choose from, and even though they vary so widely and are so inventive, for which we must give him all massive due credit.